PORTLAND, Ore. – A few neighbors in Northeast Portland jumped into action Saturday afternoon to prevent a suspected hit-and-run driver from fleeing after he crashed twice.
Witnesses said the initial crash occurred at around 1 p.m. when the driver, identified Sunday morning as 42-year-old Matthew Washington, ran a red light at Northeast 148th Avenue and Halsey Street, and hit a red minivan.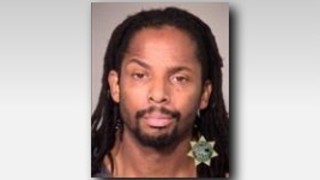 Instead of stopping, witnesses said Washington continued to head east on Halsey Street before crashing into a telephone pole at Northeast 160th Avenue.
That's when Washington tried to climb out of his car window. But cell phone video from neighbor Ted Johnson shows people holding him down until police arrived.
"Another guy in an SUV chased after him while I called 911 and they did catch him at the other, which I was very happy for and they said he's probably going to jail," said neighbor Alexandra Andronikos.
Police confirmed Sunday that Washington was arrested on multiple charges, including failure to perform duties of a driver to injured persons, third-degree assault, DUII, reckless driving and two counts of second-degree criminal mischief.