Chuck Bennett had a ride to catch.
Make that two, actually.
Lyft and Uber made their official debuts in Salem on Wednesday. Both set up ceremonial rides with their arguably biggest advocate in City Hall.
Uber kicked off its operations in Salem with a morning ride with Mayor Bennett.
Bennett will take a ceremonial ride with Lyft from Salem City Hall to Vagabond's Victory Club downtown later Wednesday, according to the Salem Area Chamber of Commerce.
The mayor caught an Uber ride at the Oregon Capitol with Rep. Brian Clem, D-Salem, and Rep. Jodi Hack, R-Salem. Robert Bittick, of Jefferson, took them for a quick cruise.
The job will be a secondary income for Bittick for the time being. He used to be a taxi driver in Phoenix, Ariz.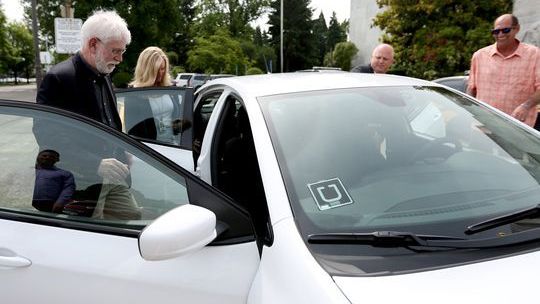 Bennett spearheaded the effort to bring ride-sharing companies to town.
"For me as mayor, we delivered on something we'd talked about," Bennett said outside the Capitol.
"But it also means we're gonna have some alternative transportation available for people who can't be served by a personal car or the current transit system," he said.
House Bill 3246 had gained some traction in the Oregon Legislature to regulate ride-sharing companies statewide before it ultimately appeared to die in committee earlier this year.
"Mayor Bennett and the city council deserve a lot of credit for making this a reality," Hack said in a statement of ride-hailing coming to Salem. She and Clem were two of the sponsors of HB 3246.
"I am hopeful that their leadership will help pave the way for the Legislature to move forward with a solution that will allow these services to expand statewide," she said.
Uber spokesman Jon Isaacs said the company could be available throughout most of Oregon by the end of the year as it works with individual cities.
"There's a bit of a snowball effect that's happening now," he said, citing Corvallis and Medford as examples of cities where the company could start operating.
"We're not gonna start service in any city until we've worked with them on adopting a law that works for both for us and for that city," Isaacs said.
He said the days of the company launching into cities as it did previously in Salem are gone. Uber worked in Salem years ago but was quickly sanctioned by city officials.
Uber has been hit with critical news reports in recent months, including a Tuesday article from The New York Times saying the company has canned 20 employees because of "harassment, discrimination and inappropriate behavior."
More: Portland releases Uber 'Greyball' audit; Saltzman seeks subpoena
Send questions, comments or news tips to jbach@statesmanjournal.com or 503-399-6714. Follow him on Twitter @JonathanMBach.