PORTLAND, Ore. -- If Richard and Tatyana Sundvall ask you to go for a walk, make sure you put on some comfortable shoes because this couple can cover some ground.
"We've been to Gresham, we've been to Beaverton and Oregon City," said Tatyana. "You can walk everywhere by feet in this town and we absolutely love it!"
The Sundvalls have been walking the city for a decade or more, but in just the last three years they've trekked more than 5,000 miles, according to their trusty GPS.
"It's pure exploration just to see what's around that corner, and what's over that hill, what that park is like, the city is so beautiful." said Richard. "You just get filled with joy after seeing five-thousand miles of the city."
For Tatyana it's the personal connections that make it worthwhile.
"The people you meet, the animals you pet, the chickens you feed, it's just amazing," she said.
And a couple of years ago, they decided it would also be amazing to make those miles count. So on the Summer Solstice, they will again put one foot in front of the other from dawn until dusk to raise money for the Dougy Center. Last year they walked 40 miles and raised $12,000 for the center. It's a cause close to Richard's heart.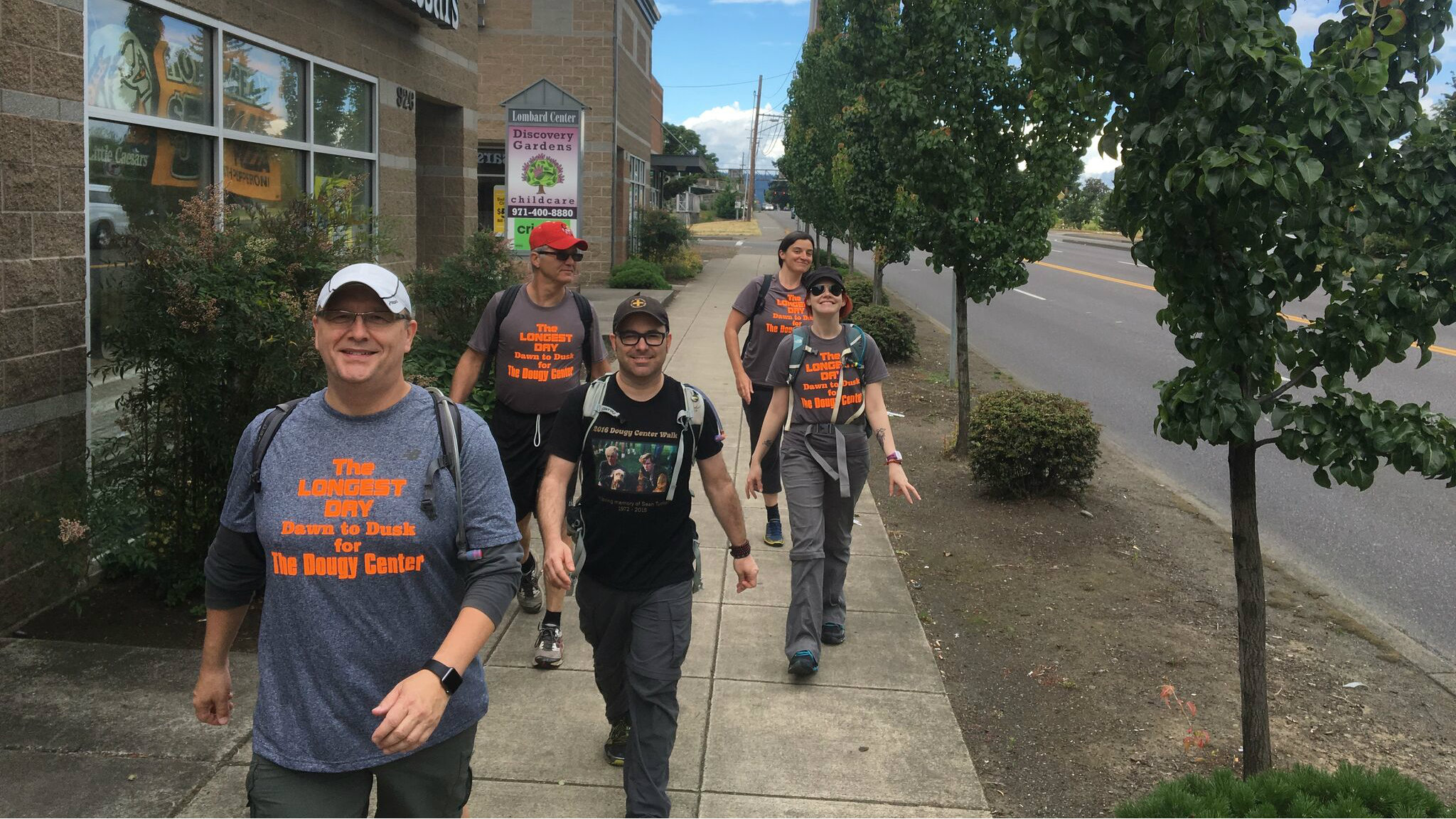 "I lost my mom at a young age," Richard said. "My brother was 19, and you feel that."
The Dougy Center is a place where children who have lost a parent or sibling can come together to grieve and find support.
Executive Director Brennan Wood first experienced that as a child herself.
"I actually came to the Dougy Center in 1987 when my mom died of breast cancer three days after my 12th birthday." Brennan said. "And I say this all the time, but the Dougy Center saved my life."
The Dougy Center helps children at no cost, relying completely on donations from people like Richard and Tatyana. It currently provides services to 500 children a month, but Brennan says they could do more. Recent census figures show that one in 20 children will lose a parent or sibling by the age of 18.
"In the history of the Dougy Center there has never been a time when we didn't have kids waiting for our services," Brennan said.
Which is why on June 20, Richard and Tatyana will hit the sidewalks of Portland at sunrise.
"We thought of course it has to be on the longest day because I felt when you lose somebody it is the longest day of your life," Tatyana said.
They will keep walking until the sun sets about 15 hours and 40 minutes later, helping to bring comfort to grieving children, every step of the way.