GRESHAM, Ore. -- A Gresham woman said for months she's been dealing with threats of rape, murder and violence against her dog, all from an unidentified stalker. This week she got her first look at him.
"It's a grown man with an obsession," said the woman named Jen. "He can't get over the idea of not having me." KGW isn't identifying her full name or age to protect her privacy.
For almost a year, Jen said she's been dealing with the stalker. She said it started last November with text messages sent from throw away phones. She received pictures of places where she'd hang out, street signs near her home and threats that grew more and more violent.
"He'd say that he found a way that he was going to get me," said Jen. "That he was going to rape and kill me and stab my dog and he was going to make me his forever."
On Wednesday, Jen finally got a glimpse of her stalker. The man was caught on surveillance camera outside her grandparents' house in Gresham, a place where Jen had finally felt safe. The man can be seen leaving a note on the door which said, "Baby. You should have known that I'd find you. Soon. You. Will. Be. Mine!!"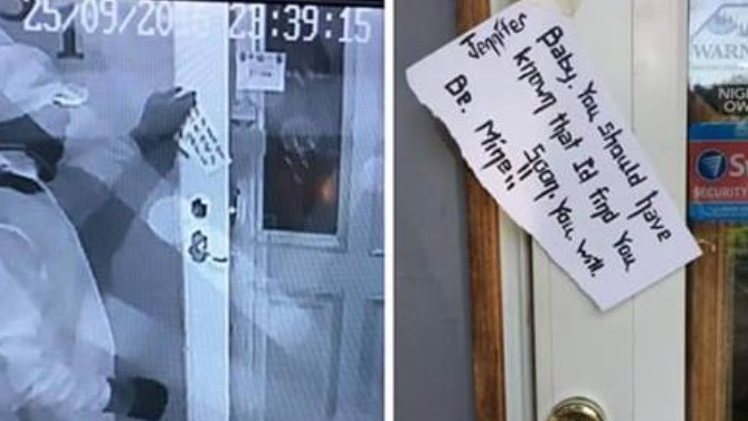 For Jen and her family, it was the last straw.
"We gathered our thoughts on it and decided something needed to be done."
Jen filed a complaint with Gresham Police. An officer who confirmed the report told KGW said at this point, there isn't much they can do to help her. Jen said she's worried one day it will be too late for anyone to help her. She pointed to one text message she received that said, "I'm going to rape you again and again and again and then bury you so no one will ever find you."
"It's just creepy," said Jen. "I'm trying to get in his mind but it's a dark place…I don't want to be there."
In the video, the stalker's hands, face and head are covered but you can see he's a white man with a stocky build and possibly a shaved head. Jen hopes someone will recognize him and blow his cover so she can at least file a restraining order against him.
"Any lead would be great," she said. "I just wish the cops could do something about it."