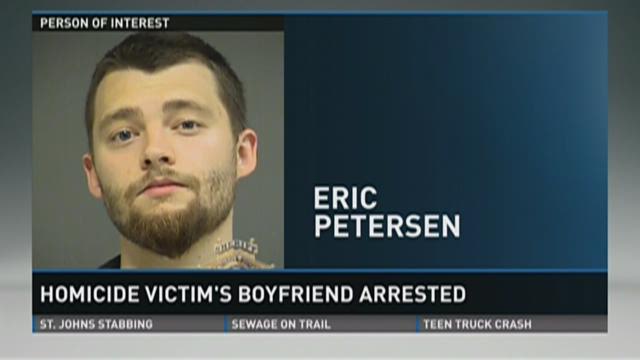 HILLSBORO, Ore. -- The boyfriend of a woman killed in apparent homicide in Hillsboro Friday has been arrested.
The victim had filed a restraining order against her boyfriend last year.
Just after 11:30 a.m. Friday, Hillsboro police responded to a reported stabbing at the Minter Bridge Square Apartments at 1821 SE Minter Bridge Rd., according to Sgt. Eric Bunday of Hillsboro police.
When officers arrived, they found a woman dead of apparent homicidal violence, Bunday said. She was later identified as 24-year-old Aimie Zdrantan.
Zdrantan's boyfriend, 24-year-old Eric Christopher Petersen, was named a person of interest in her death. He was considered armed and dangerous.
On Saturday evening, Petersen was arrested on a probation violation near LaCenter, Washington, Bunday said.
According to court records obtained by KGW, Zdrantan had taken out a restraining order against Petersen in March 2013.
At the time, Petersen was ordered to have no contact with Zdrantan or her 2-year-old daughter, Lexi. He was also ordered to undergo anger management treatment, drug treatment and a batterer intervention program.
Zdrantan's father told KGW that Petersen had drug and alcohol problems and had been arrested for a weapons charge last year.
"I tried to make it work, address him and council both of them in how they handle their differences and arguments because they are both young," said Steve Zdrantan. "He didn't want to grow up."
Although Zdrantan had filed a restraining order against Petersen, investigators said the two were in a relationship at the time of her death.
Petersen is still considered a person of interest in the homicide investigation.
On Friday, a woman was killed at her home in Silverton. She had been in a relationship with the suspect, and had a restraining order against him.
Anyone who is in a domestic violence situation or is worried for someone who might be can seek help at the Oregon Coalition Against Domestic & Sexual Violence. You can also donate to the cause by clicking here.