BELLINGHAM, Wash. - The public is being asked to help mop up a salmon spill from an imploded net holding 305,000 fish at a Cooke Aquaculture fish farm near Cypress Island in the San Juans.
Lummi fishers out for chinook on Sunday near Samish, south of Bellingham Bay, were surprised to pull up the Atlantic salmon - escapees that turned up in their nets again on Monday.
The Washington Department of Fish and Wildlife is urging the public to catch as many of the fish as possible, with no limit on size or number. The fish are about 10 pounds each. No one will know how many escaped until harvesting is completed.
But Ron Warren, fish program assistant director for the Washington Department of Fish and Wildlife, said the net had some 3 million pounds of fish in it when it imploded Saturday, and the department says Cooke Aquaculture estimates between 4,000 and 5,000 fish got out and is working to repair their nets.
Warren said the spill was caused by tides pushed unusually high by Monday's approaching total solar eclipse.
The department has been monitoring the situation and crafting a spill-response plan with Cooke.
"Our focus is on the safety of our people, securing the farm facilities, and protecting the environment we work within," Cooke Aquaculture said in a statement. "Farm crews are on site, working to stabilize the farm and to recover as many fish as possible, when conditions permit. The health and safety of our employees continues to be our priority and we will wait for tidal conditions to improve before we send divers into the farm to do a full assessment."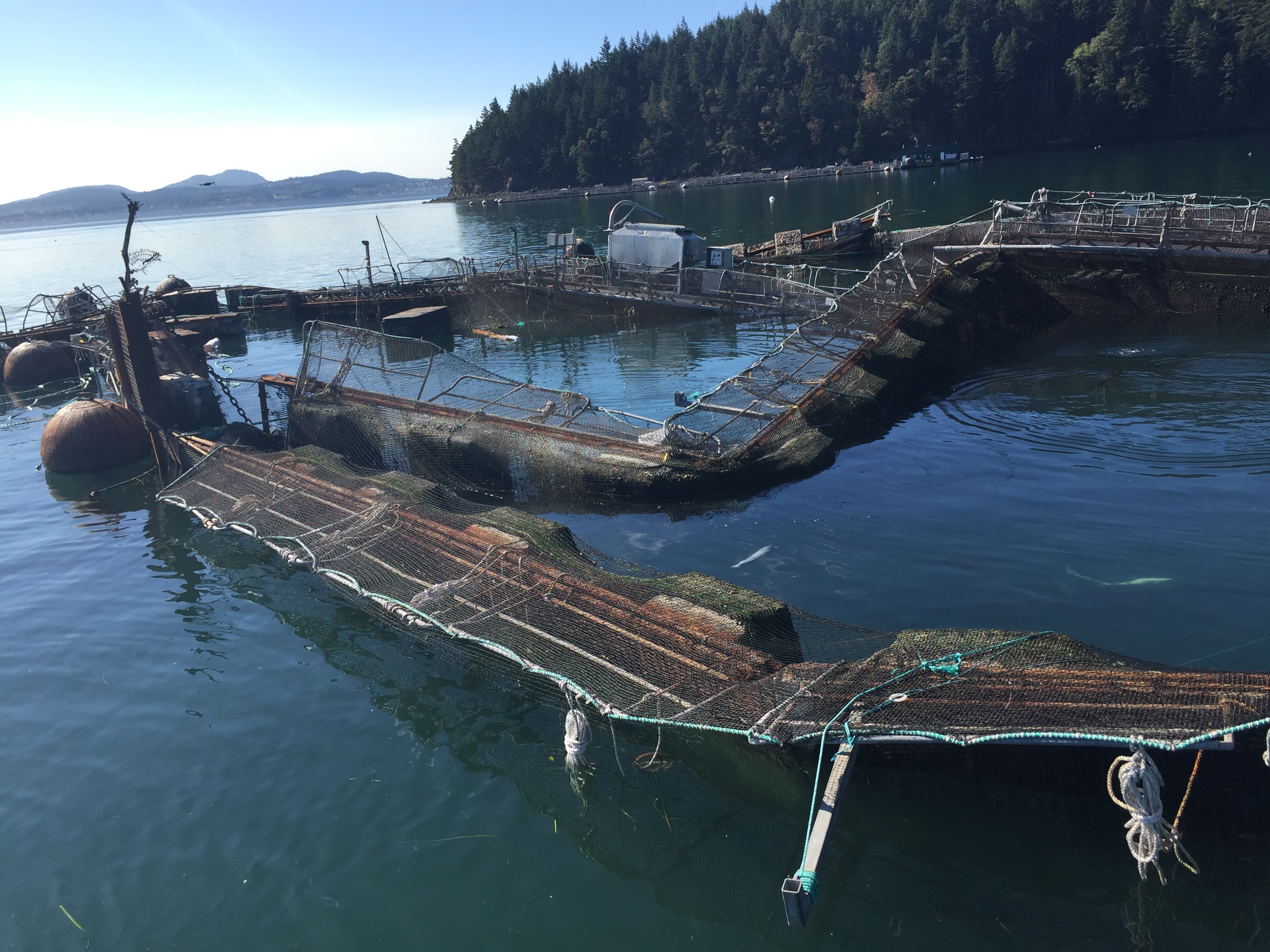 Environmental groups don't see it that way.
"They really are like an invasive species," said Wild Fish Conservancy biologist Nick Gayeski.
Gayeski is concerned about the spawning of native fish and their feeding.
"They're going to be looking for fresh water at some point as they age, but in the meantime, they're looking for food so they're out there competing with our native salmon," Gayeski said.
The group has already heard from a local fisherman who posted pictures of the salmon they caught on their Facebook page. They've been protesting these farms for some time and said they're not buying the company's explanation.
"They had the same issues a month ago, and they had to have crews come from the east coast and to fix these net pens," Marine Affairs Specialist Molly Ogren said.
Cooke says there were strong tides in July as well, but said they have been growing fish successfully there for 30 years and have not had ongoing issues.
The Wild Fish Conservancy doesn't agree, because "the external cost of operating in the water is not just on the Atlantic Salmon it's on the natural environment, as well."
NOAA is also involved in the cleanup and says their research shows farm-raised fish usually stay near the nets. Mike Rust, science advisor with the Office of Aquaculture, said their research shows farm-raised fish don't do well outside the nets.
"Those fish that escape are much more likely to be prey than they are to be predator," he said.
A Lummi fisherman has reported finding one in the Nooksack river, but NOAA says in the past native salmon have proven stronger than most escapees.
"Their ability to compete really goes down quickly," he said. "Farmed Atlantic that have been domesticated would be like a dairy cow competing with a gazelle on the Serengeti, it's just not going to be significant."
Rust says he believes people need to give more consideration to farm-raised fish and says the U.S. doesn't utilize farmed fish nearly as much as some other countries.
"People should educate themselves and learn more, because when you line it up it's not a bad way to make animal protein," he said.
Cooke Aquaculture has applied to expand its operation in Puget Sound waters. It's something environmental groups continue to fight and point to incidents like this as the reason why. A protest is planned on September 16 near Bainbridge Island.
KING 5's Travis Pittman contributed to this report.