PORTLAND, Ore. -- A fourth Portland food cart pod has been burglarized in just the past week.
It's called the NE 42nd Ave. Carts, on Northeast 42nd Avenue and Killingsworth Street. It's an area that was just labeled Portland's new restaurant row.
Three out of the four carts stationed were broken into sometime Halloween night. Electronics, cash and even food prep equipment were stolen.
Now cart owners like Melissa McMillan, are warning their friends at other pods, to take everything of value out every night.
4th Portland food cart pod gets robbed in a week! NE42nd Ave Food Carts hit Halloween night stealing cash, food prep & electronics pic.twitter.com/7tDJkay2IA

— Nina Mehlhaf (@NinaMehlhaf) November 1, 2016
"This morning I woke up to my neighbors texting me a picture of the inside of my truck and it was just trashed," McMillan said. She got the bad news hours after landing back in Portland from watching her beloved Chicago Cubs win Game 5 of the World Series. Her cart, Pastrami Zombie, was just voted one of the city's best by Portland Monthly magazine. Now it's closed for a few days because someone cut the lock and stole things.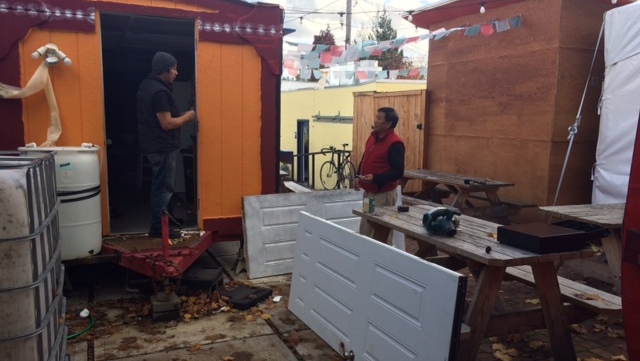 James Carter's eggs benedict cart, Mr. Benny, was also burglarized. He showed up to find a busted door and a broken cash register. All will cost him a lot more to fix then just the $15 in cash the thieves stole.
In the past week, the Portland Mercado, Carts on Foster and Cartlandia have all been hit by burglars. Police have dusted for fingerprints on doors, but so far no suspects or information has been released that could link them all together.
"There's plenty of carts out there that are just small businesses who are just trying to do what they do and make money at it," Carters said. "We're not trying to have an extravagant thing going on. For anything like this to happen, can be potentially catastrophic."
Most of the carts at Northeast 42nd Ave. will be back open Wednesday or Thursday. Police say most of what's stolen are items that can quickly be resold on the street.