A gunman opened fire Friday afternoon at Fort Lauderdale-Hollywood International Airport in Florida, killing at least four people and wounding 13 others, local law enforcement sources told NBC News.
They also say a gunman was in custody.
The Associated Press tweeted out that the Mayor said a lone shooter is responsible for the attack.
BREAKING: Mayor says a lone shooter responsible for attack at Ft. Lauderdale airport.

— The Associated Press (@AP) January 6, 2017
The Fort Lauderdale airport tweeted the incident occurred at a baggage claim inside Terminal 2. Passengers and workers were evacuated onto a tarmac.
All flights in and out of the airport have been temporarily suspended.
Former White House press secretary Ari Fleischer tweeted he was at the airport at the time of the shooting and "everyone is running." He later tweeted that "all seems calm."
All seems calm now but the police aren't letting anyone out of the airport - at least not the area where I am.

— Ari Fleischer (@AriFleischer) January 6, 2017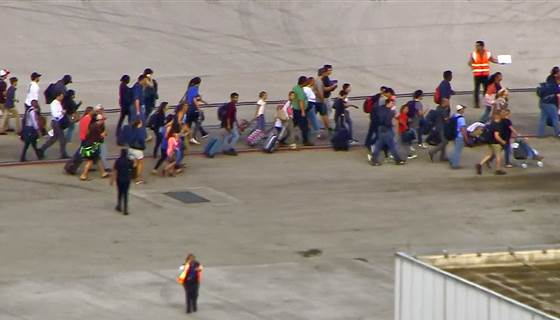 The airport says it receives over 73,000 travelers each day.
A law enforcement expert said authorities will try to determine who the suspect is and whether there are other plots afoot.
"You're trying to understand, is this a one-off guy? Regardless of motive, is he alone, or is there something else?" law enforcement expert Jim Cavanaugh told MSNBC. "We hate to think that way, but that's the requirement for police commanders — to think that way."